A Little About Your Hostess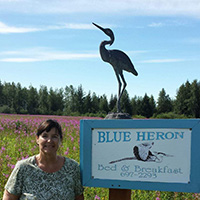 Deb grew up in the Adirondack foothills, went to college in Boulder at CU, and moved to Alaska as a young woman. She had always had a dream about returning to the land and learning canning and putting food up while she built a homestead. She lived on Kupreanof Is. for several years and traveled by kayak to resupply her stock of food or to work in Petersburg. Learning of a job in her field, Deb moved to Juneau where she taught ESL (English as a Second Language) for the University of Alaska/JDCC and wrote grants for various education programs.
A "sense of place" became a strong pull for both Deb and Charlie, and they moved to Gustavus and their respective homesteads within the same week. Life was very simple back then in a town with no electricity, 10 miles of roads and cutoff from access to the outside world. There was no ferry or regular jet service so it was a good place to develop the skills of self-sufficiency and an even stronger connection with the wilderness. More than 40 years have passed and Deb still loves the small community way of life and proximity to things wild. Visitors 'come as strangers and often feel they are leaving as friends'!

Welcome | Photo Album | Guestbook | Your Hosts
Features | Accommodations | Rates & Reservations | Email | Directions

Reservation Form


Don't Forget to Bookmark this Site!



www.blueheronbnb.net
deb@blueheronbnb.net