Directions to Blue Heron B & B


Air Travel
Gustavus/Glacier Bay is 65 miles northwest of Juneau and is served daily by jet service from Alaska's capitol city. Flights arrive from either the lower 48 states, usually through a hub like Seattle (SeaTac Airport) or from the north's Anchorage, AK. In most instances a passenger will stay onboard or transfer in Juneau for Gustavus/Glacier Bay. Flights take only about 13 minutes and we will greet you when you arrive at the airport with our van or arrange taxi service for you.

Great Blue Heron
(Courtesy of AK Div. of Tourism)


Travel via a small plane
to Gustavus

For the true sightseer, we might suggest an earlier arrival by flying to Gustavus in one of the smaller planes (single engine plane up to a Caravan) with space available for four to ten passengers. Flights are accessible from Juneau Airport and we recommend you book with Alaska Seaplanes (not arriving with floats), Ward Air or Mt Flying Service (from Haines or Skagway).. Other carriers are Mt Flying Service and Drake Air (from Haines and Skagway). Flights average about 30 minutes and give you a bird's eye view of mountains, wildlife, fishing boats and magnificent water patterns and fjords.
Transportation is available to Gustavus from Juneau via the Alaska State ferry and arrives at the Gustavus Dock near Blue Heron B&B on State Dock Road. Courtesy van service can be arranged with your hosts.
It is suggested that visitors consider travel 1 way via ferry and 1 way via small plane or jet to allow adequate time to experience this friendly community. You will want to include birding, kayaking, fishing, hiking, whalewatching, flightseeing, fine dining, art galleries and crafts, Saturday market, Glacier viewing, naturalist exhibits and presentations in your stay.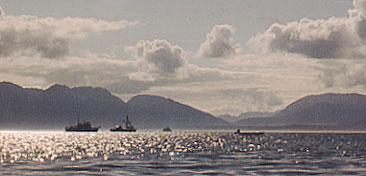 Boating
For those who are traveling by water on either a custom charter vessel, bare-boat charter or your own private vessel, you will need to plan ahead. It is not suitable to leave your boat tied up to the Gustavus Dock for any extended period of time since space is extremely limited and it is busy in the summer. Also, the current and winds can be severe, especially during the westerlies. Safe anchorage is limited to a sandy bottom off the flats or the lee side of Pleasant Island; both requiring a good anchor. We will meet you at the dock after you notify us.
Note: To enter Glacier Bay National Park by private vessel, you are required to call in for a permit. They are located on channel 12 and monitor channel 16. Permits are limited and are on a first-come, first-serve basis. Planning ahead is critical for your wilderness experience.


To view a map of Glacier Bay, go to the State of Alaska home page link. For travel planning we suggest these web sites: Alaska Airlines, the Alaska Marine Highway and the Alaska Department of Fish and Game.



Sea Kayaking


Travel by Alaska Marine Highway ferry system to another Southeast port and then fly to Gustavus
(Courtesy of AK Div. of Tourism)


Sea Lions diving off haul-out
(Courtesy of Robert Angell)
Welcome
|
Photo Album
|
Guestbook
|
Your Hosts
Features
|
Accommodations
|
Rates & Reservations
|
Email
|
Directions
Reservation Form
Don't Forget to Bookmark this Site!



www.blueheronbnb.net
deb@blueheronbnb.net