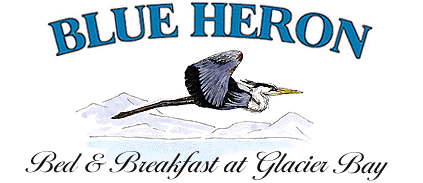 As lifelong Alaskans, Deb will share her beautiful ten acre homestead and give you an "insider's view" of breathtaking Glacier Bay, Alaska.





Blue Heron Bed and Breakfast in a field of wildflowers


Blue Heron Bed and Breakfast is unique! Our octagonal cedar home sits adjacent to Heron Guest House and the two Deluxe cabins with kitchenettes. All are nestled in a wildflower meadow filled with lupine, shooting stars, Indian paintbrush, cowparsnip, and fireweed. It creates a virtual artist's palette!
An important part of our homestead is our large garden with its renowned, oversized cabbages, carrots, potatoes (eight varieties), root crops, fragrant herbs, and flowers. Then there is the inviting sunroom attached to our cedar home where you can unwind over a cup of coffee or save yourself for the morning's gourmet breakfast!

Cabin Interior


Cabin Interior


Cabins & Lupine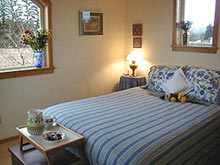 Blue Room
We offer Glacier Bay, Icy Strait, Pt. Adolphus and Outer Coast tour packages so you can explore this unique land of fjords, calving glaciers, spouting whales, and spectacular wild life sightings.
Because we customize all of our guests' tours, please let us know if you want to go on an exciting whalewatch-wildlife tour, kayaking in an open or protected cove, hiking, bike riding, sport fishing, flightseeing or out to the fabulous Outer Coast for a tour of remote beaches, quaint fishing villages and bird rookeries.
Gustavus provides visitors with an authentic, small town Alaskan experience without the crowds or lines. Come enjoy the friendliness of our B&B with its personalized service, exceptional fine dining opportunities and amazing views. The average stay of our guests is 3-4 nights so they can get in all their chosen activities in a perfect environment with knowledgeable guides and better weather than most Southeast communities.
We can even loan you extra warm clothing for this adventure of a lifetime. You will find binoculars in each room so you can view our spectacular Fairweather Mt. Range, marsh hawks, eagles, herons, cranes, or an occasional bear or moose.

The beach is nearby and you may be lucky enough to spot a
whale blowing or breaching in Icy Strait.

Calving Glaciers


Breaching Whales
(Courtesy of ADF&G)
...More captivating photos ahead in each section!


Recommended by TripAdvisor